Garden Vegetable Risotto
Traditional Italian comfort food meets brilliant British vegetables in this Garden Vegetable Risotto recipe from The Chiappa Sisters'. To stop the risotto burning (up to 200°C), use creamy Bertolli Buttery and show it some love by patiently stirring the whole time, gradually adding the stock. Make this dish suitable for vegetarians simply by switching the parmesan to an alternative cheese, for a meal that's still warming and delicious.
Prep time

15 minutes

Servings

4 portions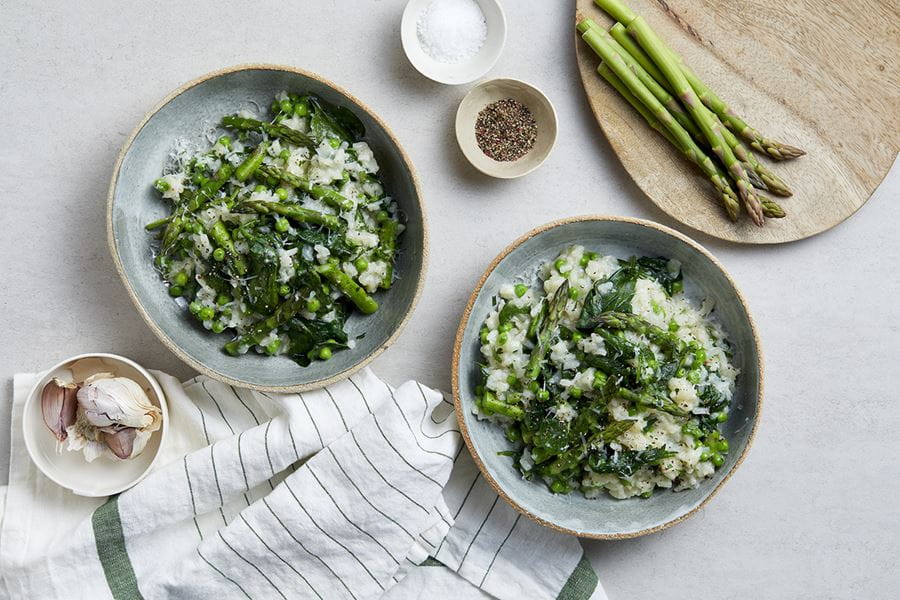 Ingredients
30 grams Bertolli buttery spread
1 small onion finely chopped
350 grams Arborio rice
125 ml dry white wine
1 courgette cut into small dice
8 asparagus tips finely chopped
100 grams frozen peas
1 litre vegetable stock
20 grams Bertolli buttery spread add before serving
40 grams grated Parmesan
Instructions
Heat the Bertolli in a heavy based saucepan. Add the onion and sweat on a medium heat until softened.
Stir in the rice and coat with Bertolli Buttery. Add the wine and allow to evaporate, stirring all the time.
Stir in the courgettes, asparagus and frozen peas.
Add a couple of ladles of hot stock and stirring continuously, cook until the stock is absorbed. Add more stock and repeat. Continue adding stock slowly, cooking and stirring in this way for about 20 minutes, until the rice is cooked.
The rice should be soft but with a slight bite.
Add a little extra water if necessary. Remove from the heat and mix in the Bertolli Buttery and Parmesan.
Serve with some Parmesan shavings.